HOME
 Gateway Blogs to Your Art Business
Many people do not like waiting for blogs to roll out over several weeks and months in order to get the information they want.
There are many opportunities … but my research shows that the best route to personal success is Fine Art America is to post many blogs … and show your website visitors how to view and purchase your art.
That is why this website delivers over 15 blogs at once on Fine Art America website operations for FAA, website owners, and customers.
As a bonus for people who purchase the book below … including FAA, its artists, and others have the author's permission to:
create additional blogs for their own FAA websites from these website blogs.
create new blogs from the author's book chapters listed in the book below.
The author has also produced the tutorial book below to help other people gather information quickly so that they can move on to purchasing success and whatever else interests them.
This website is dedicated to helping people and artists learn how to:
Set up Fine Art America (FAA) websites.
Use Fine Art America websites to buy and sell artists' products.
Design, modify, and buy products being offered by FAA artists.
Design, modify, and use their own images on products without a website.
Welcome to this series of information blogs … specifically designed to enhance experiences and success … with Fine Art America websites by the largest collection of the world's finest artists. The biggest surprise is that the number of product choices is outstanding (and … visitors can place their own images on a large variety of products).
In order to get the most from these blogs and experience the joy of discovery and success … a retired college professor has written a plain-language tutorial guide to help people started … and to keep them going from one FAA website to another without getting lost in any of them.
The tutorial book below will be the key … and guide … to opening and easily using hundreds of thousands of unique websites that can send chills down your spine as you discover the hidden talents of artists around the world.
Note: The author is a retired college professor. The information and opinions in these tutorial guides are his own. He is not an employee or an affiliate of FAA. His positive observations concerning FAA are not influenced by any financial arrangements with FAA. He is very familiar with FAA since he has had his own FAA website since 2017.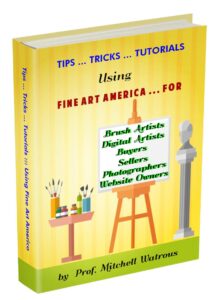 Tips Trick Tutorials Using Fine Art America … For Buyers Sellers Artists Photographers and Website Owners 
The eBook is recommended because it has active links to everything almost anyone needs to do on FAA websites (and priced so that starving-artists can easily afford it)!
The print book is also very good … and many people prefer to have a print book in addition to an eBook.  
NOTE: The success of Fine Art America depends upon its customers' ability enter an FAA website and navigate within it. The more practical information that FAA and its artists can provide to website customers and visitors … the more successful they will all likely be.
The book presented above has a few more chapters than the blogs on this website … but it is a practical tutorial that provides guidance for website owners, visitors, buyers, and those who want to make their own products without a website.
Best regards for your success,
Prof. Mitchell L. Watrous, Author (Ret.)
NOTE: Be sure to check out all the invaluable Blogs on this website … which you can copy or modify for your own website.