Blog 8: Pro Canvas Art Steps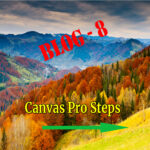 Blog 8: Pro Canvas Art Steps
Many people are interested in having a nice canvas art piece. Here are some Pro Steps to improve your canvas wall art.
You can use all these little tips and tricks you see here … to get the most from your online shopping … or in physical store purchases.
Here is a brief outline of what to expect in this Blog for Canvas Wall Art:
We are going to start exploring hundreds of options for Canvas Wall Art … and you will be amazed at what you can do with various colors that you have probably never imagined before.
It is quite possible that you have never been exposed to the opportunities that you will discover in this short presentation.
You will develop abilities that you did not even know you had … and possibly because you did not know all these options were available.
Most people do not put frames around Canvas Wall Art … but you absolutely can if you want a frame around yours.
You can follow right along with these demonstrations on the website below since we know it best.
If you have no idea what you would like to use for your Canvas Art Print art project … you can just browse the art until you see something you like … then, click on it.
IMPORTANT POINT TO REMEMBER
You can use any image you find on most FAA websites and put them on just about anything you can select or modify in ANY product category on FAA websites. That is a huge advantage for shopper to have … especially if they know how.
However, if you just want to look around for something … go to the top of the opening web page and you will find a search box at this address:
Click > Fineartamerica.com …  Enter a topic in the Search  box … and then click on the magnifying glass   
  in the right side of the search box.
Your can do keyword searches for thousands of images (and artists) you might like … such as: mountains, lakes,  flowers, stars in the sky, beaches, cities, animals, birds, trees, etc.
For example, let's say a friend might have mentioned an artist like Barbara Teller on Fine Art America.
To find her works on Fine Art America, just do the following:
Click > Fineartamerica.com
Hover the mouse | symbol over the word Search … in the box … and Click it >
Another option appears … Click > Keyword V … and another menu drops down with four more options:

Artist
Keyword + Artist
Title
Title + Artist

Click > Artist (i.e., from the drop-down submenu) … and another menu box appears.
Click on > Search … (which is a place-holder … and will fill-in with your typing).
Type over it with the artist's name:  Barbara Teller … and Click >
When you find an image that you like …  Click > on that art piece and then choose the category in which you want to work with it.
We chose "Take A Breath" … which is a painting by Barbara Teller.
In this case, we want Canvas Print option:
Click > Take A Breath … and another window opens.
Click > Canvas Print icon (i.e.,  note the other 12 icons you could also choose)
Please note: You may see your chosen image in 12 or more categories that are also available to you … and keep that in mind … because we will explore many of those categories in future blogs.
Note that  you can have many options that are different for each product category … but this is where you can greatly improve the qualities of the product you want.
When you Click > on the Canvas Print icon … another menu page will pop up with more options and additional surprises for you like this one in the link below:
https://fineartamerica.com/featured/take-a-breath-barbara-teller.html?product=canvas-print
Note: When you open the link above … look to the left of the image … and you should see 5 icons in a vertical line-up. You can click on them to get an idea of what the artwork might look like on your wall.
MORE OPTIONS TO CONSIDER
Look farther down the page in the link above for ADDITIONAL PRODUCTS … and you will see what I mean by additional surprises (i.e., 22 additional product categories in which you can use ANY of the digital images  you find on ANY FAA website).
Go ahead. Click around on them. Explore to find out more about the power you can have in your hands that you would not have when walking into a "regular" store off the street.
Note: As you gain the skill to use all the FAA website options … you could use any of the 22 icons under Additional Products (for any image on FAA) to navigate directly to that product and begin using your knowledge and "color magic" skills to develop the product as you really want it.
OK … so you are thinking … "That's great information, but how can I use it?"
That is probably the most important question you could ask.
Therefore, I am going to show you many things that you need to know to get the very best uses of any image(s) you choose for yourself … or as gifts for others … and keep these things in mind if you are going to develop your own FAA website!
Some have already said that this should be an online course for $97 to $297 … but for this process I believe that blogs are better because readers can easily jump around in them.
But … if you pay attention to all the hints and tips in these little blogs … you can save yourself a lot of money while greatly improving your shopping skills! (Note: And especially … get the inexpensive, helpful book listed at the end of  this blog!)
Everybody loves wall art. Bcause it can do so much to improve and change any environment in homes, offices, pubs, or wherever it appears.
So … let's go! If you don't still have your image (as shown above) … just click this link: Take A Breath  … and you will be back where you need to be for the rest of this blog.
TAKE YOUR TIME TO DO IT RIGHT
You do not have to go fast … and if you get confused (or totally astounded by the beauty of a product) … just take your time and play around with all the options you find. You are NOT going to break anything … so, play all you want to … because can always start over!
The beautiful image named: Take A Breath … can be modified with several production options which Include:
A.   8 Print Sizes: (i.e., 8 Image Sizes in inches include: 10 x 7.5; 12 x 9; 14 x 10.5; 16 x 12; 20 x 15; 24 x 18; 30 x 22; 36 x 26.5 … and Image Size affects pricing). See notes below.
B.   Shape: (Natural; Vertical; Horizontal; Square) See notes below.
C.   Canvas Wrap: See notes below.
1.5" Stretcher Bars (Mirrored Sides)
1.5″  Stretcher Bars (Black Sides)
1.5" Stretcher Bars (White Sides)
5/8" Stretcher Bars (White Sides)
No Stretcher Bars – Rolled Canvas (rolled in a tube)
D.   Canvas Type: See notes below.
Glossy Canvas – Recommended;
Matte Canvas)
E.   Frame: See notes below.
No (You will receive the canvas rolled up in a cardboard or plastic tube if you plan on supplying your own frame and mounting hardware.)
Yes ( Most Popular Colors: Gold, Silver, White, Yellow … if you want their frame)
NOTES:
A.   Print or Image Sizes vary with the SHAPE of the Canvas Print selected:
There are 8 Print Sizes for the "Natural" Shape;
For the "Vertical" Shape there are only 3 Print Sizes;
The "Horizontal" Shape has 5 Print Sizes;
The "Square" Shape also has  5 Print Sizes.
Note: If an Image also has any text on it … be sure that the text will actually fit on the SHAPE STYLE canvas actually selected for the image. (Website developers should also check to ensure that all their text will fit on all their Print Size Shapes.)
 B.   There are four Shapes … but none of them come with a Frame.
Buyers and developers must ensure that any text on the image will fit on all available Shapes and Sizes.
 C.   Canvas Wrap refers to the colors which can appear on the sides of the Canvas Print.
There are side option colors: Mirrored image sides, Black sides, or White sides.
The sides are caused by canvas being streteched  over a 1.5″ or 5/8″wood frame.
 Color changes can be observed on the image as selections are made.
A selected size canvas image with no stretcher bars is available as a rolled-up canvas.

Note: Artists might choose this option when they have their own mounting techniques or want to use a frame, or a glass cover over the image in a frame.
D.   Canvas Type Print
Glossy prints have a lustrous coating that shines by reflecting light (preferred).
Matte prints do not have a coating … and do not reflect light.
E.   Frames do not come standard with a canvas print.
If a frame is ordered with rolled-up print, make sure the frame and print match.
If you choose to order one of the frame colors, you can review each of the frame options for each color as they will look around your image.
Better: A frame can usually be made locally and matched to a rolled-up canvas print.
Note: Except for "rolled-up" canvas prints, most of these Canvas Art Print images come with pre-attached hanging wire, mounting hooks, and nails (when applicable) … and usually ships within 2-3 business days.
Other Observations: 
You can observe the large Canvas Art Print to observe changes for sizes and colors that you are making prior to purchase.
Beneath the large Canvas Art Print, you may see four other information boxes:
Frame [ None … because a frame is not standard with Canvas Art Prints]
Top Mat [ None … because a Top Mat is part of framed image] *
Bottom Mat [ None … because a Bottom Mat is part of framed image] *
Dimensions [ Image size:  and Overall size:  This is your current configuration]
*Top Mat and Bottom Mat … application and use information … will be covered in greater detail for "Framed Art" in a later Blog.
In case you have not had the opportunity to do so yet, here is the order information for the important tutorial book that can help you through many rough spots on FAA websites:
| | | |
| --- | --- | --- |
| | One Billion Secret Choices in Fine Arts America [eBook] | $3.99 |
| | One Billion Secret Choices in Fine Arts America [ Print Book] | $7.79 |
NOTICE:  
In Blog 9 we will cover some Shopping Magic For Framed Art Prints … which is a very popular category of Wall Art.