Blog 2: It's Not Magic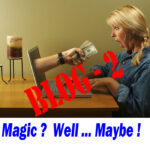 Blog 2: It's Not Magic
But some of these world-class artists can certainly make it seem like the world is full of magic.
If there was ever anything hidden in plain sight … you don't need magic to discover it.
Why? Many people see it … but only a few people seem to know how to access the information on FAA websites and use it.
Most people are completely unaware that they could dramatically change their lives by the colors they choose to use everywhere … because colors affect everything we do … and in every second of our waking lives.
In my opinion, FAA is the world's largest market for beautiful, state-of-the-art gifts and high-quality merchandise that can be delivered worldwide … or right to your address (or any place with a physical address worldwide).
They currently have 16 worldwide production companies that have been delivering products since 2006 from hundreds of thousands of various artists and iconic brands. You are going to be thrilled with the quality of the products delivered by FAA.
While this will not be a comprehensive PhD-level presentation … I can assure you that you will learn and know more than probably 90% of the world's online shoppers.
You can become an outstanding online (and physical store) color shopper … to zoom ahead of your competition. Life, after all, is a competitive event (you know … jobs, love, success, and everything else).
How to Become an Outstanding Online Color Shopper is something that you absolutely must do … and there are some "free tools" to help you do it … in this presentation.
The tools in this book are targeted for FAA website owners, users, and buyers. Why? Because these tutorials are needed by all three groups for more in depth use.
But, the most important group that can make the most use of this book are the buyers.
Why? Because they need the information in the book more than anyone else … because they can make thousands of modifications to the end-product art than the artists and website designers can offer them.
Many online retail merchants are becoming aware of the need to provide their shrewd customers with a way to make better color choices for all their products (i.e., art, clothing, wall paint, furniture, etc.).
I used to go nuts trying to match the colors for the clothes I wanted to wear for "this or that" occasion or special event … or I could not get the right colors for picture frames … or much of anything else.
Ever get that "gnawing feeling" that your clothing combinations look more like a pizza (with everything on it) … and you would rather eat it than wear it?
This presentation is intended to introduce people to the methods they can use to choose find and use colors and products on FAA websites.
Whether we like it or not, all our successes depend on using our best colors and combinations of colors on everything we wear or use.
Most people need a lot of help in the use and application of colors. The main areas are in online shopping and physical retail stores.
The "birds and the bees" (and just about all other animals) not only use colors but they are also influenced by the appearance of colors. Colors can influence and guide animals for food, mates, danger, recognition, survival and possibly migration.
The animal kingdom appears to be more overtly influenced by colors than the human kingdom. The animal kingdom seems to be more "hard-wired" to colors and their variations than humans … and animals do seem to have a repertoire of "built-in" responses.
For example, the uses and applications of colors for human activities are not always obvious, and they can also be subtle as well as suggestive. The strategic use of Shades, Tints, and Tones can be very effective … and you will learn some tricks to get those.
Millions of dollars are spent in marketing and advertising for uses of colors and color combinations to appeal to human emotions, preferences, and purchasing activities.
It does not matter if you are a "last minute shopper" or if you are an organized "shopping machine" …   everyone needs help … especially online shoppers.
Men don't know it, but they are just as much influenced by colors as women are. I have learned that it is not "cool" to show up at a funeral wearing Camo shorts, an Hawaiian shirt, a Panama hat, and green flip-flops. And, nope, wearing Ray-Ban sun glasses will not make that a good combination either.
Although I cannot cover everything under the sun related to colors … and that would be a bad idea anyway … I will try to cover as many ideas and applications as possible to help people with things that impact their lives and the products they buy.
Online shopping websites drove me and my wife into the "dark forests" of the mystical color "shades, tints and tones" … and ever-shifting "color patterns."
Upon emerging from those confusing kaleidoscopes of color patterns, we were no closer to satisfaction than to the best goodies in the Garden of Eden.
It did not matter what we were shopping to find … no "Tree of Color Knowledge" of any kind could be found anywhere.
Plus, shopping online often offers far more color selections and products than you could ever find in a "physical" store.
Also, online stores are beginning to realize that if they do not give their customers what they are looking for … many customers will slap that return label on a shipping box faster than a lightning strike.
Therefore, tricking customers into purchasing something is a foolish idea (hint: always look for that "money-back" guarantee before buying anything … anywhere).
Colors are so important; it is vital to get them right … on everything!
Later on, I will show you how to get color "shades" and "tints and tones."  I'll even reveal to you what those "tones" are all about … and how you might use them.
Many websites have various color-selectors on their websites … but most of them do not take the time to tell their customers how to use them. The Color-Wheel / Shade-Tint-Tone tool is an amazing instrument … and you will love the tricks you can do with it.
Where color selectors are available on a website, knowing how to use the "shading" and "tinting" and "toning" parts of these color selectors is vital to a great color outcome on your product or gift.
FAA has a great selection of color patches … but their Color-Wheel with a Shade-Tint-Tone Box is almost magic … and I am going to show you exactly how to use it (and which parts are related to Shades …and …Tints …and Tones).
Statistically, you can produce over 16 million color variations with that magic system.
Some of you are probably saying … "OK, what colors do I really want? How do I figure that out?" And, you would be exactly right in asking those questions, and I have some answers for you.
In the meantime, go to these links and save them on your favorites (i.e., on your PC or mobile devices):
xxxxx
Go there and be amazed at over 740 colors and names you can find (to use later) … and to give you more ideas about colors you did not even know existed … plus 216 Web-safe colors.
Hint: If you find a color code you like on those websites … you can even copy and use them on the FAA Color Wheel's Code Box (i.e., the hexadecimal code).
Two of the most helpful things that buyers and visitors can use on these websites is the knowledge of what is actually going on these websites … and what tools can be used to help them get product(s) dressed up and modified to suit their needs.
To get started with any product section on an FAA website … knowing what tools can actually be used can be most useful in helping a customer get started correctly.
For example, the most important design tools for use on FAA websites are these:
Image – Border (Slider) sizing control tool
Color Patch options available
Color-Wheel + Shade-Tint-Tone Box for Color development and application
Listed below is the current,  general overview of the Fine Art America categories … and the possible tools that can be used.
These are dynamic business-art websites. And that means that almost any product in any area on the FAA parent website can be in constant "update" mode:
Wall Art         [Except for Tapestries: no color options or Slider options available.] *
All Wall Art
Canvas Prints
Art Prints
Posters
Framed Prints
Metal Prints
Acrylic Prints
Wood Prints
Original Artwork
Tapestries [i.e., has every option available except for mats and frames]
*These are the limitations that apply for an image used on the products in the Wall Art category … but these restrictions/options can change when the image is used in other product categories.
Art Media                  [NO color or Slider options for an image used in Wall Art.]
Paintings [Use for: Wall Art; iPhone Case; Throw Pillow; Coffee Mug]
Photographs [Use for: Wall Art; most Additional Products categories]
Drawings [Use for: Wall Art; 14 Additional Products]
Digital Art [Use for: Wall Art; Greeting Cards; iPhone Case; Yoga Mat; Tapestry]
Mixed Media [Use for: Wall Art; most Additional Products categories]
Home Décor   [All color patches, color wheel, and Slider options active in this category.]
Throw Pillows
Fleece Blankets
Duvet Covers
Shower Curtains
Hand Towels
Bath Towels
Coffee Mugs
Holiday Ornaments
Lifestyle         [All color patches, color wheel, and Slider options active in this category.]
Jigsaw Puzzles
Yoga Mats
Tote Bags
Weekender Tote Bags
Carry-All Pouches
iPhone Cases
Galaxy Cases
Beach              [All color patches, color wheel, and Slider options active in this category.]
Round Beach Towels
Beach Towels
Weekender Tote Bags
Tote Bags
Carry-All Pouches
Tech                [All color patches, color wheel, and Slider options active in this category.]
iPhone Cases
Galaxy Cases
Men's Apparel          [Color patches and Slider active … one exception noted below.]*
Men's T-Shirts
Men's Tank Tops
Men's' Long Sleeve T-Shirts
Sweatshirts/Hoodies
*Face Masks [Uses Slider … with Color Wheel for Background color … no color patches]
Women's Apparel     [Color patches and Slider active … with one exception noted below.]*
Women's T-Shirts
Women's Tank Tops
Sweatshirts/Hoodies
*Face Masks  [Uses Slider … with Color Wheel for Background color … no color patches]
 Youth Apparel          [All use color patches and Slider.]
Kid's T-Shirts
Baby Onesies
Stationery      [All color patches, color wheel, and Slider options active … except one* .]
Greeting Cards
Spiral Notebooks
*Stickers  [Transparent or white background only … no Slider or color options.]
How can you get the book?  Once again … here is the information:
The print book is also very good … and many people prefer to have a print book in addition to an eBook.