Blog 1: Advantages For You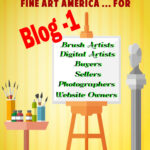 Blog 1: ADVANTAGES FOR YOU
Things You Would Never Know About Fine Art America (FAA) … unless someone told you.
The following table is a list of Subjects and Subject Links related to Fine Art America (FAA) Websites. Note: FAA in the presentation refers to Fine Art America.
Do not worry about having to learn everything in this table. Much of this information is nice to know in case an artist, buyer, or website owner needs to know more about certain aspects of FAA uses and options.
The information in the table below is both easy to understand and nice to know.
Take your time and do a quick overview of the possibilities. The reason I did not present this information as a tutorial video is that many people like to review … and stop … review some more … and then continue.
Plus, finding a topic to review is far easier to find in a list than scrolling through a video.
How to use the table below:
Click on the "Company Overview" link to find out much more about the company.
Click on the "Get Stated Here" link … and you can continue on through the entire list.
Later, if you want to go back and review a particular "Subject" … you do not have to go back through the entire list. Just go to the particular link you want to review.
For example, suppose you want to go back and review how to set your own product prices. You do NOT have go back … clicking through the entire list … to get back to that subject.
Just go back to the list to find your topic "Set Your Own Prices" … and then click on the link next to it in the right-hand column.
Note: You DO NOT have to learn all this stuff in the table below … but it is there for you to review as you wish:
Table 1
Book Order Information:  Tips Tricks Tutorials Using Fine Art America – For Buyers Sellers Artists Photographers and Website Owners
One of the biggest secrets of this presentation is that the artist needs to learn everything that a buyer would need to know in order to purchase products from the artist's website. … and that is the biggest mistake that most FAA website owners make.
No one knows the artist's products better than the artist who posted it … but buyers will not buy from websites when they cannot understand its operations!
Unfortunately, the big disconnect is that many artists on FAA hope that their customers are experienced enough to know how to look up … and purchase … their products on FAA.
That is a big mistake … because website owners need to know just as much about purchasing from their own websites as their customers will need to know (i.e., and this book can help both website owners and website visitors learn exactly how that works).
However, if an artist cannot answer questions about product choices and product feature management … that could not only be embarrassing but could also result in lost sales and potential customers.
Therefore, most of the rest of this presentation will be presented to help the artist's visitors figure out how to make the most desirable product-change choices to fill their needs.
In case you do not know … much of the magic of FAA product fulfillment happens through the skills and abilities of the staff who work at the 16 FAA warehouses around the world.
What am I talking about? A customer might want to buy some framed art for office, home, a rental, or other projects.
Many customers also want to buy products as gifts for various occasions … and many of those buyers would like to purchase the same nice product for others but in different colors.
This is where the artist's knowledge of the frames, mats, etc. available on FAA … could score some big points with a potential customer … and the customers they tell about you.
Many customers do not have basic facts to know … that on FAA they:
have many frame, border, and mat choices available;
have over 16 million color choices on certain products;
can play, compare, and experiment with colors on many products;
can use certain ColorHexa tools to match colors for products uses .
The more that artists know about the possibilities for their own products … the more successful they can be in sales … and in gaining new customers.
Therefore, this publication will not only be a big help for artists who engage in helping their customers to make better choices … but it will also be a big help for customers who can make much better choices when buying artist's products from FAA websites.
Here is the test for artist FAA website owners … go back and look at your own products as if you are going to buy something.
Website owners will usually find some of their own products and product descriptions that they do not like … and customers might not like them either (i.e., and will not buy them).
It is a simple matter for the website owner to go back and review all their set-up pages to see if they could make them better (i.e., colors, color combinations, sizes, etc.).
Then … actually go through the process of ordering one of your own products. If you had any problems at all … then you can anticipate problems that your customers will go through when they try to order one of your products.
You want to make sure that customers will not abandon your cart because they became frustrated while trying to order one of your products.
How can you get the book?  Once again … here is the information:
Tips Tricks Tutorials Using Fine Art America – For Buyers Sellers Artists Photographers and Website Owners
The print book is also very good … and many people prefer to have a print book in addition to an eBook.